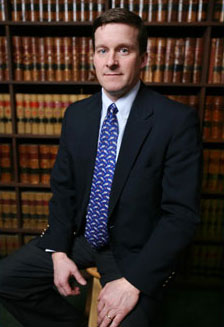 DAVID B. GEURTSEN was born in Binghamton and grew up in Syracuse, New York. Mr. Geurtsen graduated cum laude from St. Lawrence University and from the State University of New York Law School at Buffalo in 1992. He was admitted to the New York Bar, and to the United States District Court for the Northern District of New York in 1993.
He is a member of the Session of the United Presbyterian Church of Sackets Harbor, and serves as a Fire Commissioner for the Town of Rodman. He is also legal counsel for Tug Hill Tomorrow, a regional land trust, for the Sackets Harbor Historical Society, and for the United Presbyterian Church of Sackets Harbor. He has served as a member of the Board of the CREDO Community Center in Watertown, New York, as Vice-President of the Board of Cornell Cooperative Extension of Jefferson County, New York, as a National Delegate of Ducks Unlimited, and as a municipal planner for the County of Jefferson, and Chairman of the Village of Sackets Harbor Planning Board.
Mr. Geurtsen has concentrated in personal injury, real estate/land use, and employment litigation since joining the Firm in September 1992. He became a partner in 1998. He currently concentrates his practice in the representation of the victims of serious injuries, and represents the Village of Sackets Harbor, Samaritan Medical Center, Tug Hill Tomorrow Land Trust, and the Town of Lorraine.

Contact Mr. Geurtsen