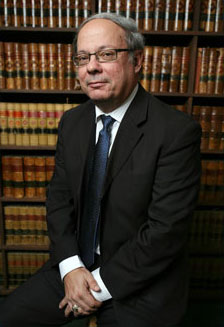 STEPHEN W. GEBO was born in Watertown, New York. He received an A.B. from Hamilton College, graduating Phi Beta Kappa with Honors in History in 1973. Mr. Gebo was on the Law Review and received his J.D. from Cornell University in 1976. He was admitted to the Bar in 1977. Mr. Gebo is a member of the Jefferson County and New York State Bar Associations.
Before joining the Conboy Law Firm, Mr. Gebo practiced for a year in New York City and a year in Binghamton. He joined the Firm in 1978 and became a Partner in 1981. He assumed an of counsel role beginning in 2016.
Mr. Gebo is a member of the Litigation Practice Group and has concentrated his practice in general civil litigation. He has represented individuals and businesses in all types of litigation, including personal injury, commercial disputes, real estate issues, boundary line questions, tax assessment matters, debt collection, and zoning questions since joining the Firm. He has also represented school districts and municipalities in such areas as contractual disputes, alleged human rights violations, civil rights litigation, civil service matters, and personal injury actions.

Contact Mr. Gebo