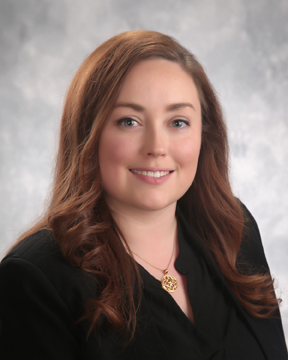 Genevieve L. Purcell was raised in Somerset, New Jersey. Ms. Purcell graduated magna cum laude from Rutgers University in 2007 with a Bachelors of Arts in Comparative Literature. At Rutgers, she was a member of the Phi Beta Kappa Honor Society. In 2011, she received her Juris Doctor from New York Law School in New York City. While at New York Law School she served as Vice President of the Criminal Law Society and a member of the Stonewall Law Student Association. She was admitted to the bar in September 2013.
During law school, Ms. Purcell worked at the Brooklyn District Attorney's Office, in the Sex Crimes - Special Victims Bureau. There, she provided critical legal support to a team of prosecutors and reviewed evidence, advised investigations and met with child victims and their families. Following that, she worked in the chambers of Brooklyn Supreme Court Judge Neil J. Firetog, who primarily presided over homicide cases. After law school, she briefly worked at the New York State Office of Children and Family Services, in the Special Hearings Bureau, in Manhattan. There, she provided legal advice to Administrative Law Judges handling petitions to overturn determinations of child abuse and neglect. She then volunteered in the Appellate Writing Unit at the Children's Law Center, in Brooklyn where she handled mainly custody and visitation cases.
In 2013, Ms. Purcell joined the New York City Administration for Children's Services as an agency attorney in the Family Court Legal Services Division in Brooklyn Family Court. For three years, she prosecuted hundreds of cases of child abuse and neglect and worked tirelessly to promote safety for children and families struggling with issues of substance dependency, domestic violence, and mental illness, among other things.
From 2016 until December 2019, Ms. Purcell worked for the New York Unified Court System as a court attorney, working one on one with New York City trial judges. In 2016, Ms. Purcell was honored to serve as court attorney to the Honorable Ben Darvil Jr., in Brooklyn Family Court, where she provided legal advice, research and writing, and case management for a child protective trial court handling primarily child abuse and neglect cases. In 2017 she was again honored to serve as associate court attorney to the Honorable Elenor C. Cherry, in Bronx Family Court, handling cases primarily involving child abuse and neglect. Beginning in 2018, Ms. Purcell had the great opportunity to provide legal support and counsel as court attorney to the Honorable Emily Morales-Minerva, Civil Court Judge, sitting in Bronx Family Court. Judge Morales-Minerva presided over child custody, visitation, family offense and child support matters. Ms. Purcell's entire legal career has been focused on helping families facing some of the most difficult challenges of their lives.
Ms. Purcell moved to the North Country in December 2019, with her family, including her cat, Kitty and her dog, Benji. She joined the Conboy Firm in January 2020 and her areas of practice include custody, visitation, child support, child abuse and neglect, family offenses and other matters involving family law and domestic relations.

Contact Ms. Purcell
Save
Save