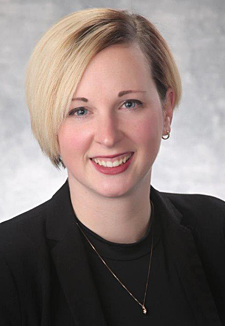 Tristen J. Robinson was raised in Alexandria Bay, New York. Following graduation from Alexandria Central School, Tristen attended Rochester Institute of Technology and SUNY Oswego. Tristen graduated summa cum laude from SUNY Oswego in 2015 with a B.A. in Public Justice, and was recognized as the Outstanding Senior in the Public Justice Program. In 2018, she received her J.D. from Vermont Law School. She was admitted to the bar in January 2019.
While attending law school, she worked for the Environmental and Natural Resources Law Clinic as a student clinician, representing clients in toxic torts cases and drafting environmental legislation. She also externed with the Vermont Agency of Natural Resources where she focused on environmental litigation and enforcement. Vermont Law School named Tristen an Environmental Mission Scholar because of her dedication to using the power of the law to make a difference in her community and in the world.
While living in Vermont, Tristen acted as the oral argument coordinator for the law school's appellate advocacy program, she worked as a Nature Instructor and educated children about environmental ethics and survival skills, and she formed a fellowship of Christian women.
Tristen joined the Conboy Firm in September 2018. She is a member of the Business, Estates, and Real Estate Practice Groups. Outside of the office, she enjoys camping, cross-country skiing, fishing, pilates, boating on the St. Lawrence River, and being outdoors with her dog Charlie.

Contact Mrs. Robinson