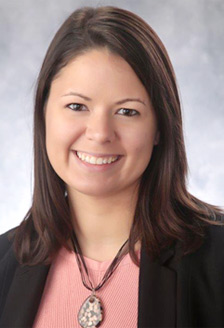 Amanda P. Calton is from Ogdensburg, New York. After graduating from Ogdensburg Free Academy in 2010 and completing a year at The Clarkson School, Amanda went on to complete her undergraduate studies at Clarkson University. She graduated in 2013 with a B.S. in Political Science and a minor in Law Studies. In 2016, Amanda received her J.D. from Hofstra University. She was admitted to the New York Bar in 2018.
While attending both Clarkson University and Hofstra University, Amanda interned with the St. Lawrence County Public Defender's Office and worked primarily on criminal matters. She has also interned with The Lexus Project, a non-profit organization working in animal law and dedicated primarily to the defense of dogs. During her second and third years of law school, Amanda was employed as a legal office assistant for the Law Offices of Russell I. Marnell, a family law firm.
Amanda is a member of Kappa Delta Chi Sorority, Inc., a service sorority, and has volunteered on the national level since 2014. She is also a board member of the Ogdensburg Area Zonta Club.
Amanda joined the firm in August 2016. She is a member of the Domestic Relations and Litigation groups and handles primarily family, matrimonial and criminal matters.

Contact Ms. Calton