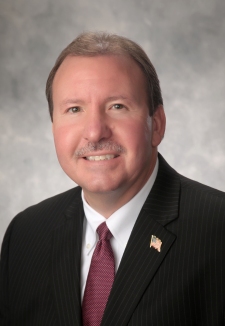 Jim was born in LaFargeville NY. He attended Jefferson Community College and transferred to Cornell University, Ithaca NY where he received a Bachelor of Science Degree, with honors, in 1985. He graduated from Albany Law School, cum laude, in 1989 and was a member of the Justinian Society and an Editor of the Albany Law Review. He is admitted to practice in NY and CT. He is a member of the Jefferson County Bar Association and a past Treasurer, past Vice-President, and past President of that Association.
Mr. Burrows began employment with Bond, Schoeneck & King, Syracuse NY, shortly before being admitted to the NY and CT Bars. His employment continued with that Firm in its Watertown office. More recently, he was a partner with Slye & Burrows, Watertown NY. Mr. Burrows joined the Conboy Law Firm in October of 2015 and became a partner in January of 2017.
Mr. Burrows is experienced in municipal law, land use law, state and local code matters, and tax assessment matters. He has represented many towns, fire districts, villages and the City of Watertown on a variety of general counsel matters, code matters, and litigation matters, over the years. He has extensive experience in tax assessment challenges, and Article 78 challenges both for, and against, municipalities and various boards. He is also experienced in general civil litigation and routinely represents individuals and businesses in many types of litigation in state and local courts including contract disputes, real estate issues, boundary and riparian issues, landlord/tenant matters and administrative hearings.
Jim is a member of the Firm's Litigation Practice Group.

Contact Mr. Burrows