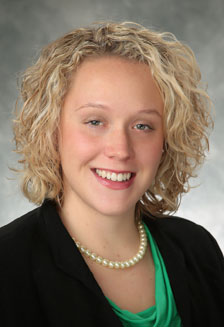 Megan S. Kendall was born and raised in Clayton, New York. Following graduation from Thousand Islands High School, she attended SUNY Brockport and graduated in 2010 with a B.A in History. In 2013, she received her J.D. from the State University of New York Law School at Buffalo. She was admitted to the New York Bar in January 2014. She joined the firm in August 2013.
While in law school, she was a member of the Phi Alpha Delta Law Fraternity, Alternative Dispute Resolution Society, and the Buffalo Public Interest Law Program. She competed at the Northeastern Regional Mediation Competition in February 2013. She was a law clerk for George M. Reiber, the Chapter 13 Bankruptcy Trustee for the Western District of New York and the United States Attorney's Office for the Western District of New York.
Megan enjoys giving presentations to help educate the public about estate planning, nonprofits, and business basics. She was recently recognized in the 2017 class of NNY Business Magazine's "20 under 40".
Megan is active in the community and is a member of the Clayton Lion's Club, a board member for Thousand Islands Performing Arts/Opera House, Thousand Islands Community Foundation, Herring College Trust, Association for the Blind of Northern New York, and Clayton Improvement Association, Ltd.
Megan is a member of the firm's Estates, Litigation, Real Estate and Business Practice groups.

  Contact Ms. Kendall