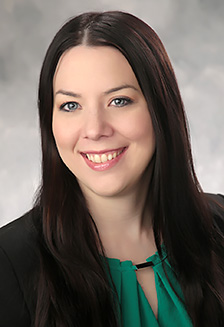 Susan L. Schneider grew up in Vestal, NY. She completed her undergraduate degree at Binghamton University in 2005. After graduating, she founded and managed an Arts Center while also working first as a scheduler in manufacturing, and then as a family life specialist at a residential campus for severely abused and neglected children. During that time, she also was a guest speaker for the Catalysts for Intellectual Capital: Leadership Initiative, became a member of The National Association of Professional Women, coached high school and collegiate teams, tutored many students, and volunteered for numerous community events.
While completing her Juris Doctor at Syracuse University, she also worked on a Master of Science in Cultural Foundations of Education and a Certificate of Advanced Study in Disability Studies through their dual degree program, and graduated with all three in 2015. While in law school, Susan worked for the University in the fields of Constitutional Law and International & Comparative Disability Law. She also worked for the Burton Blatt Institute in their efforts to advance the civic, economic, and social participation of people with disabilities. She has been published in JURIST through the University of Pittsburgh and additionally had a research paper published on special education law. Throughout her time in law school, Susan also volunteered at the Cold Case Justice Initiative, including travel to Atlanta, GA; Senator Gillibrand's North Country Office in Lowville; and the Watertown Fairgrounds YMCA.
Susan joined the Conboy firm in October 2015 and has been a member of both the Litigation and Domestic Relations Groups. She mainly practices in the area of Social Security disability.

  Contact Ms. Schneider