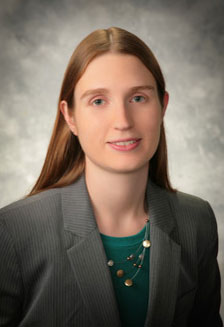 Victoria (Torie) Hasseler Collins is from Carthage, New York. Following graduation from Carthage Central High School, she attended SUNY Cobleskill and then SUNY Cortland, graduating summa cum laude in 2003 with a B.A. in Political Science, Environmental Policy Concentration. In 2006 she received her J.D. summa cum laude from Albany Law School, earning a concentration in Estate Planning with high honors. She was admitted to the New York Bar in January 2007 and the Vermont Bar in May 2007.
While in law school, Torie was an associate editor of the Albany Law Review, a research assistant to multiple professors, and a law clerk for the New York State Bar Association's Continuing Legal Education Department. Before joining the Conboy Law Firm, Torie worked as an associate attorney with Weber, Perra & Munzing, P.C. and then Potter Stewart, Jr. Law Offices, P.C., both located in Brattleboro, Vermont.
Torie is presently the Vice President of the Board of Trustees of Meadow Brook Terrace, Inc., the Vice President of the Board of Trustees of Thousand Islands Area Habitat for Humanity, a member of the Board of Directors of Hospice of Jefferson County, Inc. and a member of the Northern New York Community Foundation's LEAD Council Program. She enjoys giving presentations to help educate the public about basic estate planning and was recognized in the 2012 class of NNY Business' 20 under 40.
Torie joined the Conboy Firm in April 2010 and became a partner in April 2013. She works in the firm's Carthage and Watertown offices. She is a member of both the Business and Estates Practice Groups. Her areas of practice include estate planning, probate and estate administration, social security disability, and real estate. When not working, she enjoys spending time riding her motorcycle, gardening, hunting and quilting.

Contact Ms. Collins
Read the NNY Comunity Foundation article about Torie: click here.
Articles by Victoria Hasseler Collins
Save
Save